Bird's-Eye
View Space
With the geographical forms and nature of Minamata City captured from the sky along with its lively spirit, as well as its changing landscape throughout the four seasons and undersea shots taken in Minamata Bay, we have put together a presentation of imagery from these three perspectives - aerial, land and undersea - to showcase them in a readily understandable and captivating way, now screened on the wall in this space. By viewing this show, visitors from all parts of Japan and abroad can gain a more in-depth understanding of how colorful and vibrant Minamata City now looks like, having overcome its past of environmental pollution.
Underfoot in the space lays a satellite photo taken of the area off the Yatsushiro Sea, which allows visitors to have a glimpse of the geographical features of the area where Minamata disease occurred. It would best be observed with "Geography and Brief History of Minamata," presented on the panel attached on the wall.
In the VR corner, visitors can enjoy a 360° view of Minamata as it is today with the help of VR goggles.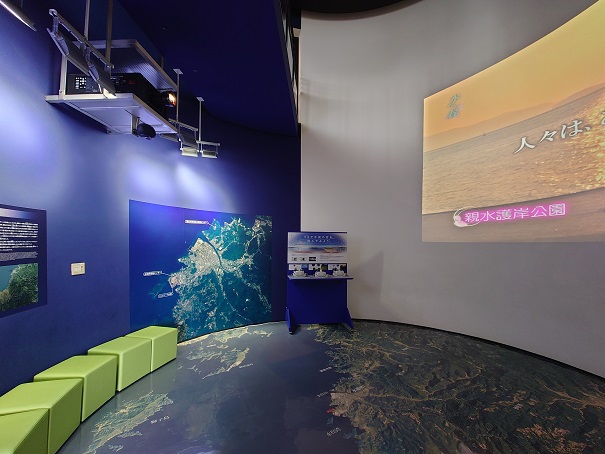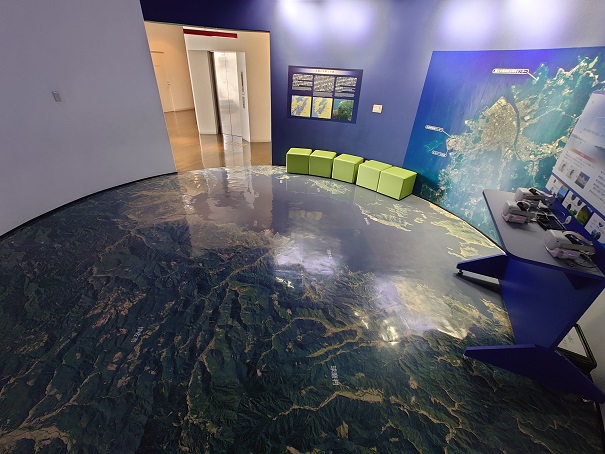 VR Corner
Visitors can use VR goggles to view 360° videos shot from above by a drone as if they were flying in the sky.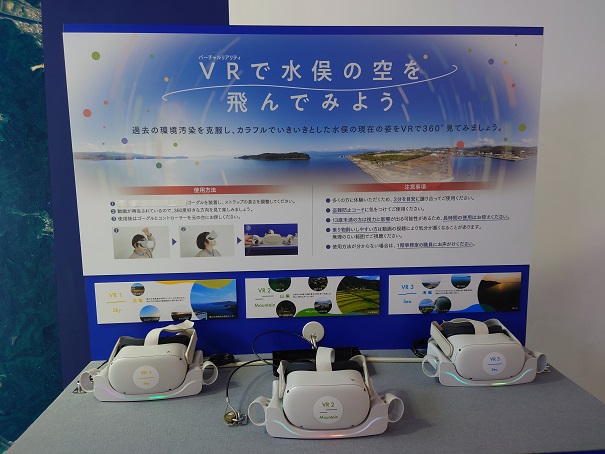 A Minamata Aerial Trip
(Minamata seen from the sky):
10 minutes 10 seconds
Images of main areas of Minamata City taken from the sky above. The ocean, mountains and landscape of Minamata can be seen in a bird's-eye view. Contains a presentation of the National Institute for Minamata Disease as well as Manabi-no-Oka, home to the Minamata Disease Archives.
Four Seasons in Minamata
(Minamata seen from the ground):
10 minutes 40 seconds
A presentation of landscape of Minamata throughout the four seasons that were captured in each season, juxtaposed so as to show the season-to-season transition. Viewers can sense the vibes of Minamata in the wonderful scenery of its ocean, mountains, vegetation and much more, along with its people who live in harmony with nature.
An Undersea Walk in Minamata
(Ocean of Minamata):
10 minutes 10 seconds
Images of living creatures in Minamata Bay, shot by an underwater photographer. A rich variety of life forms, including sea horse and rockfish, can be observed from an undersea viewpoint, which allows one to discern the ecology in the clean ocean of today's Minamata.