Information on adjacent facilities
The Minamata Disease Archives is located at Manabi-no-Oka (Hill of Learning) in Eco Park Minamata. Click here for a promotion movie that portrays the inviting features of Manabi-no-Oka.
Minamata Disease Municipal Museum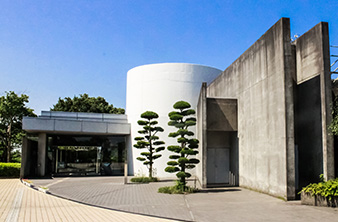 Founded on the resolute wishes that the past and present of Minamata disease should be recognized properly so that no horrendous pollution should be repeated ever again, the Museum was established with the aim of collecting and preserving valuable documentary materials to prevent them from being scattered and lost, and of passing them on to generations to come. In order to ensure proper understanding of the issue of Minamata disease, the Museum engages in outreach activities to supply information by holding storytelling events, renting out DVDs and organizing special themed exhibitions related to Minamata disease, in addition to exhibitions.
Kumamoto Prefectural Center of Environmental Education and Information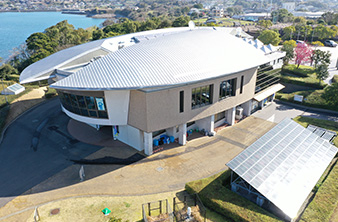 An establishment with a mission to provide information on and opportunities to learn about the environment so as to deepen a proper understanding and knowledge of environmental issues and encourage each and every one of its visitors to engage in environmentally friendly actions. Visitors to the Center can learn about the environment in entertaining ways through the Eco Stage, an attraction themed on global warming, waste-sorting practices in Minamata City and eco-shopping activities, to name a few.
The Center also provides visitors with access to books, videos and DVDs, which can also be rented out, and regularly plans and organizes projects designed to supply environmental information.
Eco Park Minamata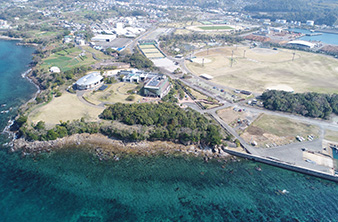 A park constructed on the reclaimed land in Minamata Bay that was formerly a site with masses of sludge containing mercury, the substance that caused Minamata disease. Spreading on a vast 41.4-hectare area, the park is equipped with not only play structures but also with facilities for various sport activities, including baseball, soccer, tennis and ground golf, and contains a waterfront promenade with a view right over Minamata Bay, eye-pleasing gardens of bamboos and roses, a souvenir shop (Michi-no-Eki Minamata) and a restaurant (Gohan-Dokoro Takenko).
Near the waterfront promenade stands a monument commemorating victims of Minamata disease. It was erected in 2006, the 50th anniversary year since Minamata disease was recognized officially. Since 2006, it has served as the venue for a memorial ceremony for Minamata disease victims, held on May 1 every year.